Avoiding Festival Toilets
Avoiding Festival Toilets
Anyone who had been to a festival knows that within what seems minutes of the gates opening the toilets are already a disaster zone and you would rather chew your arm off than actually use one. Whilst there has been an increase in the "pay to poo" style luxury toilets at many festivals the majority of us are left to face the commoners cubicles. With this is mind we have decided to list the products that can help us in the battle to avoid the bogs and make our lives easier at festivals :
If you don't know about Travel Johns then where have you been hiding ?? these are at the front line of toilet avoidance and suitable for both men and women as they have a ergonomically shaped plastic section that fits ladies  ( well you get the idea).. Simply un-roll the bag and pee into it , your pee then turns into a gel instantly with no fuss , no mess and no smell , it really is that simple. Then just bin the bag into the normal waste bin, perfect at night when you don't want to leave the tent and if you are clever enough and have a good set of friends that can act as "guards" you can even use them in a big crowd of people without anyone knowing. Personally these are one of the first things packed into my festival bag and i wouldn't go to a festival without them.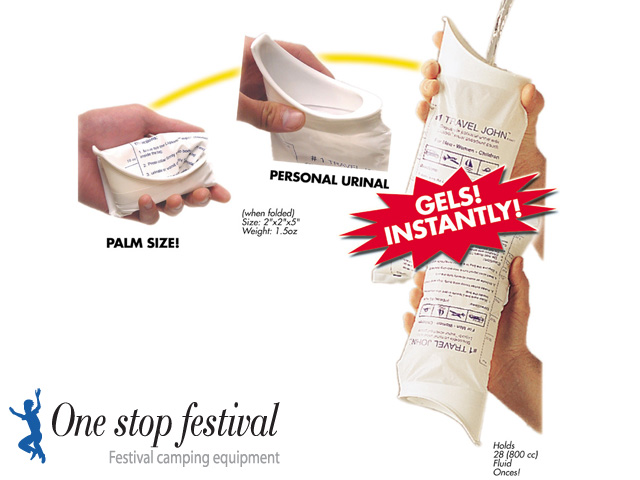 This plastic funnel device that allows ladies to stand up and pee like a man ! once you've tried it you will realise just how difficult this is ladies to direct it where you need it to go after a few beers . Again like the Travel John the Urinal is ergonomically shaped to fit you ladies and with the extreme version you also get a directional tube to help direct the pee away from you. With a this urinal you can now stand with the guys and pee up that tree rather than squatting in the woods and you'll have hours of fun and giggles trying to get the hang of it !
These great light weight portable folding toilets complete with bags are the dream solution if you want to stay in your own tent and poo although make sure your mates are happy about this before to go ! With these toilets you poo into the bag and then you still need to take the filled bag to the toilets to dispose of it as no one wants to find a bag of your poo on the floor or in a standard bin. At least it will only be a short trip to dispose of it rather a nose holding , hovering experience as usual..